Well I'm starting my christmas list of who gets what this year... and oh man! I have to make so many presents this year lol. Last year I gave everyone handmade soap and candles, and a few hats and scarves of course... but this year I want to do all hats and scarves.... I have some Ideas... I sketched them out so I could remember what I was thinking of doing lol.... They're special tailored to each person who they are going to....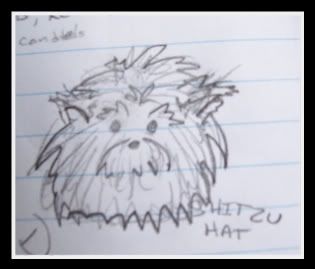 This is a Gidget Hat which I'm making for my Grandma S. She used to have a little shitzu dog and she passed away so i figured i could try to make one into a hat for my grandmother.
This is a sketch of the scarf that I want to make for my mom... I made her a skunk hat for her birthday, and I think this scarf will go great with it. I want to make a bushy green scarf with beads and leaves in it so that it will look like a bush... this way when she wears the hat and the scarf together she can duck her head down into the scarf and all you'll see is a skunk in a bush. I don't know I thought it was cute. plus I already found the perfect beads to use... just looking for that special yarn to make the scarf from.
This scarf is going to be made for my Grandpa L... He's an Artist from central upstate-ish NY he paints church windows along with some other really awesome stuff his technique is really quite unique. but I want to make him a scarf or a hat either way it going to have the painter's pallet and a paint brush and lots of colors.... Might just make the hat one though.

This next one is the scarves for my brother and one of my cousins....

The satan hat goes with the satan hat I made him earlier this year... and the fishing pole scarf will go with the dead fish hat I made for Cody for his birthday...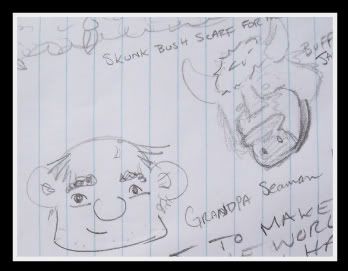 These two hats are The Grandpa Hat which is for Grandpa S... Looks like him but as a cartoon... My boyfriend even said so! lol and the other one is the Buffalo Jane Hat... which is going to go to a good friend back home in Oxford.... that one might take a little while to make ... possibly an after christmas project.

This next set are the Gidget Hat My Dad's Vikings Hat and the Humming Bird Hat which is going to my Grandma L.

The Kangaroo Hat for one of Jon's Cousins and also I'm making a Zebra hat for his other cousin and I have to figure out what to do for the rest of his family....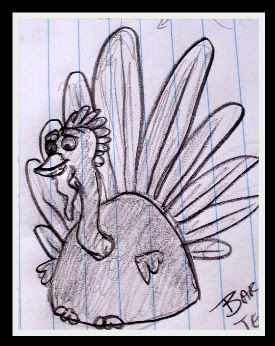 This one is going to be going up on my etsy but the Bar tender at ruby tuesday's gets first dibs if she wants it... it was her idea.... for a turkey hat ... but that's what it'll hopefully come out as lol...
Here was the entire page of doodles lol.... but those are the projects to come...